Festivals
SOLIDARITY OF ARTS. JIMEK+
---
Saturday, 13/08/2016, 20:30


Scena Plenerowa

Tickets price

100zł




BUY TICKET
Solidarity of Arts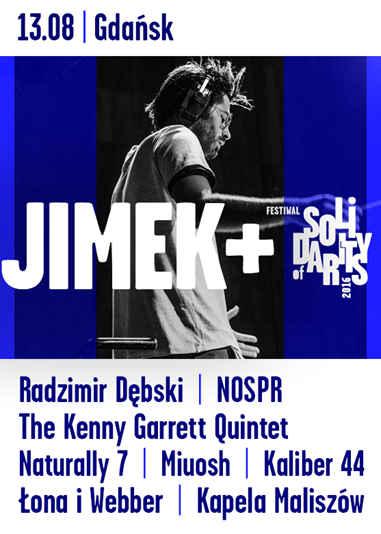 Widowisko "JIMEK+", jedno z dwóch najważniejszych wydarzeń 8. edycji festiwalu Solidarity of Arts, to pomysł przedstawienia wyjątkowych i nigdy wcześniej nie wykonywanych kolaboracji największych legend polskiej sceny hip-hopowej w oprawie symfonicznej oraz jazzowej. Podczas koncertu usłyszymy między innymi wykonanie "Hip-Hop History Orchestrated by JIMEK" oraz utwory z płyty JIMEK/MIUOSH/NOSPR 2015. Na scenach zabrzmi również materiał własny zaproszonych gości i gwiazd z zagranicy (w tym muzyka z najnowszej płyty Kenny'ego Garretta "Do Your Dance", światowa premiera 8 lipca 2016). Gospodarzem widowiska jest Radzimir Dębski, wybitnie utalentowany muzyk i kompozytor oraz producent muzyczny młodego pokolenia.
The 2016 Solidarity of Arts' flagship concert JIMEK+ is set to showcase (for the first and perhaps only time) unique musical collaborations of Poland's premiere Polish hip hop artists in jazz and symphonic settings. Insanely talented young composer and producer Radzimir Dębski, our show's musical director and author of orchestrations, will be conducting one of Europe's best symphonic orchestras, Katowice's NOSPR, and leading the exciting line-up of his guests in a 3-hour-plus show on two stages. The evening will feature a specially prepared version of the "Hip-Hop History Orchestrated by JIMEK", as well as pieces from the JIMEK/MIUOSH/NOSPR 2015 album. We will also most certainly hear JIMEK's guests' own material including Grammy Award winner Kenny Garrett's music from his latest album "Do Your Dance", which premieres in US July 8th 2016.
Bilety:
Sprzedaż tylko w kasie PFB od 1.07.2016 r. Tylko miejsca stojące.